"Kazakhstan" Resort
Treatment and recreation in "Kazakhstan" Resort in the city of Essentuki is a combination of luxury accommodation, best service and the latest methods of medical treatment among the resorts of the Caucasian Mineral Waters.
Innovative foreign medical equipment provides for precise diagnosis and treatment in accordance with the international standards. With many years of experience, a highly qualified medical staff provides best care for guests.
Medical unit
The resort specializes in treatment of disorders of:
gastrointestinal tract;
endocrine system;
cardiovascular system;
peripheral nervous system;
musculoskeletal system;
respiratory system;
as well as urological diseases;
and gynecological diseases.
To make the most complete picture of the patient's condition, a number of diagnostic studies are used:
laboratory studies: clinical, biochemical, EIA;
ultrasound of all organs and systems;
diagnosticis of the heart (ECG, Holter monitoring, dopplerography of the brain and limbs, vascular rheovasography);
endoscopic examinations (RRS, FGDS, colonoscopy, colposcopy, urofluometry);
consultations with medical specialists.
Spa
Favourite spots of our female guests are a swimming pool and a cosmetology room.
Swimming in a round pool with a dome-shaped roof and glass walls with plenty of light and an ability to enjoy the environment without leaving the pool, will fill your mind with positive feelings and lift up your spirits. Apart from that, there is a cascade shower, a hydromassage unit and a rising douche, which adds variety to an ordinary swimming experience and increases the load on the body. The pool also has an infrared sauna that is used for wellness purposes.
In the cosmetology room you will be offered a consultation with an experienced cosmetologist, receive useful recommendations and get a professional facial care.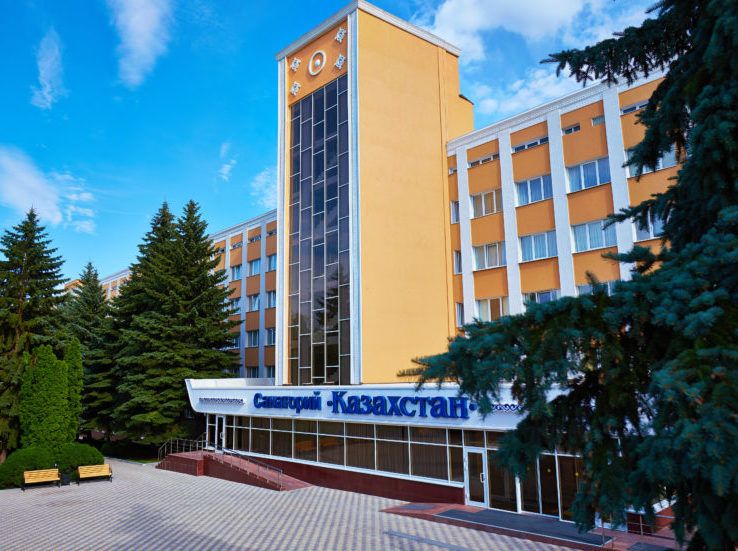 Recreation and entertainment
The five-storey residential building of the resort and the medical and diagnostics unit are connected by enclosed walkways. These buildings are surrounded by the park with a fountain, gazebos and terrenkurs.
At your disposal are:
an indoor pool;
summer sports grounds and a sports hall;
a tennis court;
billiards;
a cinema hall / a conference room;
a dance hall;
cosmetology services;
a hairdressing salon;
a children's playroom and a playground;
a library;
a lobby bar;
Wireless Internet (WI-FI);
transfer service;
parking lot under surveillance;
a tour desk;
sports equipment and bike rental
Apart from that, there are services that increase guests' comfort, for example: the alarm clock service, taxi, laundry, ATM located on premises; available payment with credit cards.