"Okzhetpes" Burabay HWC
"Okzhetpes" health and wellness complex is one of the major centers for medical rehabilitation and treatment in Kazakhstan that provides year-round therapy and family recreation. It is located in the pine forest of the Shchuchinsk-Borovskoe resort area, at the foot of the Kokshetau mountains on the picturesque shore of Lake Aulekol, just three hundred meters from Okzhetpes and Zhumbaktas cliffs. The main natural therapeutic factors are fresh mountain air filled with a rich scent of pine needles, crystal-clear lakes, May Balyk healing mineral water with high content of bromine and magnesium salts, a radon water source, a healing mud from Lake Balpash-Sor, and an extract from red deer antlers.
Medical unit
Highly qualified medical care is provided by the doctors of the first and highest categories: physician, gynecologist, neurologist, functional diagnostics doctor, otolaryngologist, pediatrician, etc.
Medical services are selected for each guest individually, which provides for effective wellness treatment. For proper diagnosis of illnesses, the complex is equipped with the latest laboratory equipment and tools.
We conduct the following exams:
Endoscopic;
Otolaryngological;
Gynecological;
Urological;
Dental.
We actively use the following therapies at the resort:
Salt therapy;
Ozokerite-paraffin treatment;
Balneology;
Climatotherapy;
Hydrotherapy;
Phytotherapy.
Accommodation package includes a consultation with a physician upon arrival at the resort, during which he orders certain tests and treatment. The main goal of the team of the medical unit is to provide the most beneficial treatment for the guests within the shortest possible length of stay in the complex.
One of the distinctive features of "Okzhetpes" health and wellness complex is its own radon water source. It is the only drinking water source in the region. And there are only around 500 of them in the world.
The medical unit has developed exclusive and innovative preventive programs for relaxation and stress relief. They are especially effective for treating psychological problems. All programs include daily physical therapy exercises and gymnastics outdoors.
Why choose us?
"Okzhetpes" health and wellness complex offers a unique opportunity to get medical evaluation and treatment in the resort setting.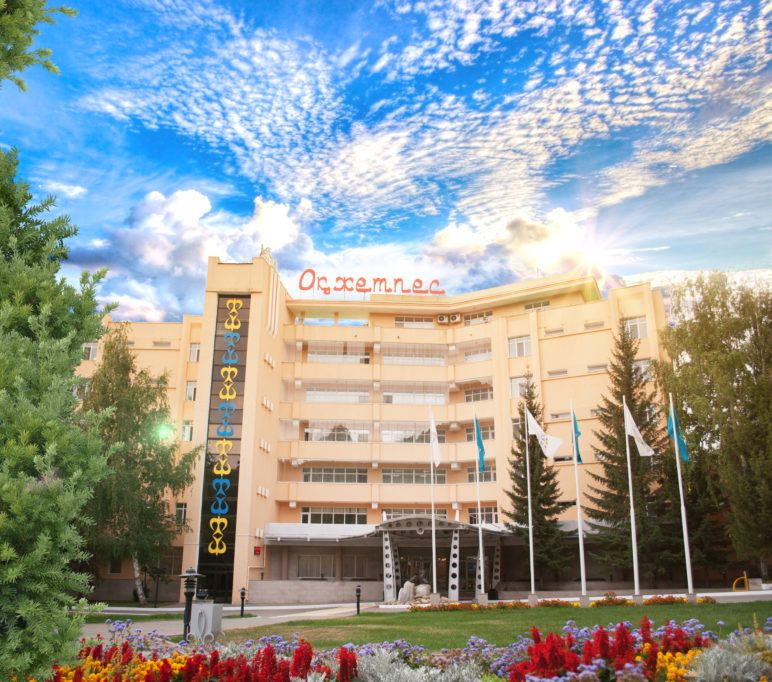 Recreation and entertainment
In "Okzhetpes" health and wellness complex we emphasize the importance of physiotherapy exercises. On the territory of Okzhetpes there are terrenkurs that stretch along the shore of the lake. While walking the terrenkurs, you will be able to enjoy the nature, flora and fauna of the Burabay National Park. Special mention should be made of the organization of a sports and fitness complex that includes:
a swimming pool with dimensions 25x12x1.7m .;
a fitness room;
four Finnish saunas;
an infrared sauna;
Turkish hamam;
a gym.
There is a children's playroom where every child always finds something interesting to do; there are professional entertainers that invite children to participate in great educational programs.  There is a summer playground for children on premises, and it's surrounded by a beautiful pine forest.
Spa
For our beautiful ladies "Okzhetpes" health and wellness complex provides a number of beauty services:
a spa;
a cosmetology room;
peeling;
massages;
manicure;
a hairdressing salon.